Do you celebrate Valentine's Day with your children or students?  The "day of love and friendship" can be FUN with a little planning and a few special activities!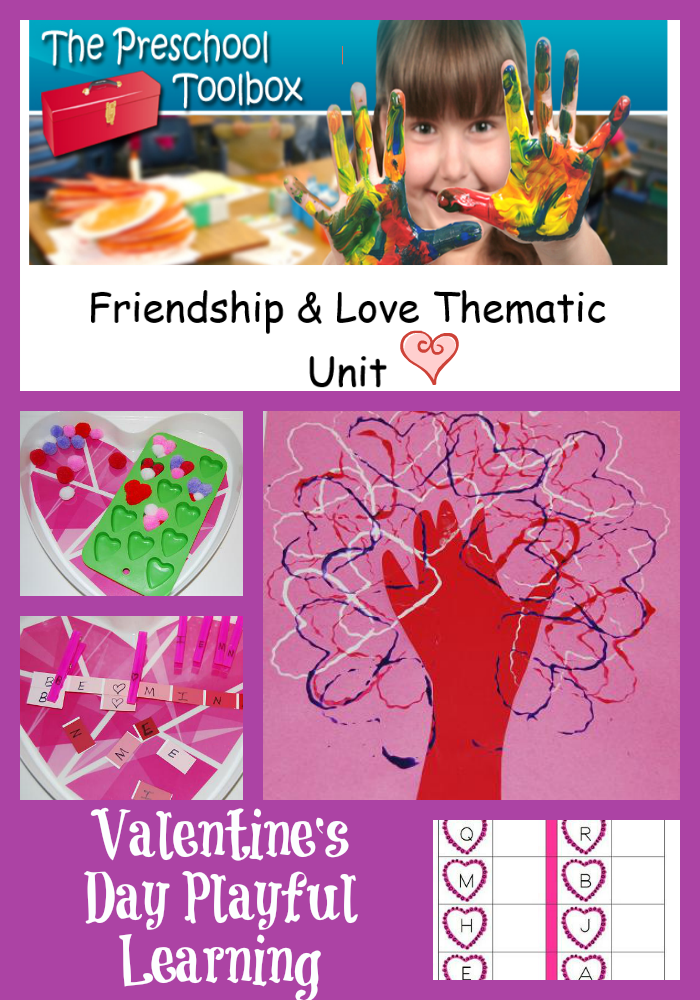 Tree of Love Handprint Craft for Kids
Materials needed:  Red Construction Paper (one per child), Pink Mounting Paper (one per child), assorted Valentine's colors of washable tempera paint, heart shaped cookie cutters, paint smocks (or an old T-shirt) to protect clothing, scissors, glue sticks, and paint trays or paper plates.
Assist your child with drawing around his hand and forearm and cutting out it out (the handprint/forearm will become the tree in the craft.)  Have the children glue the handprint to the pink mounting paper.  Place different Valentine's colors of washable tempera paint on paint trays.  Have the children use cookie cutters and make prints around their "tree."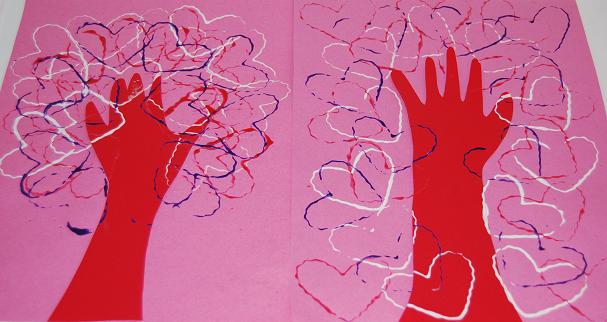 The children will make prints in various fashions….each tree will be as unique as the child making it.  The trees make wonderful classroom displays or presents for parents/grandparents at Valentine's Day!
Valentine's Day Literacy Tray
Materials needed:  Rectangular strips of colored paper, squares of pink and red paper (we used paint strips just because we had some available, but ANY colored paper will work), permanent marker, clothespins, and a tray.
Label a rectangular strip of colored paper with any word or phrases the children know.  In the photo above, we labeled our strip with the letters for :  BE MINE!  Duplicate those letters onto the squares of colored paper.  The tray should include:  the rectangular strip (labeled with the word or phrase), clothespins labeled with each letter in that word (or phrase), and the labeled squares of colored paper.
Have the children find the matching letters/clothespin and work to clip the corresponding letters together with the clothespin.
 It is great fine motor work for tiny fingers while practicing letter recognition, too!
Valentine's Day Fine Motor Tray
Materials needed:  Assorted sizes of pom-poms in Valentine's Day colors, a Valentine's Day Ice Cube Tray or Chocolate Mold (we found many at our local dollar store), and a tray.
Set the assorted sizes of pom-poms and the chocolate mold on a tray.  Ask the children to fit as many pom-poms into each of the individual molds as necessary to completely fill the mold.   After each of the molds are filled, have the children verbally count how many pom-poms they used to fill each individual compartment.  This activity seems so simple, but for little fingers, it is a fun math/fine motor skills lesson.
Writing/Stamping Lowercase Letters – Valentine's Day Literacy Free Printable
Print the file above (linked in blue) for each of your students.
The file above can be used in many different ways.  Here are a few suggestions:
Have your children use alphabet stamps and stamp pad to stamp the lowercase letter that corresponds with each letter enclosed within the hearts.  Younger children can use ONLY uppercase alphabet stamps.  **Note:  for very young children, work on only a FEW letters at a time.  Place a few alphabet stamps into a basket and have the children find the alphabet stamp that corresponds to one of the few hearts chosen to introduce.
The children can also use old magazines and cut out pictures that BEGIN with each letter enclosed within the hearts on the file.
Older children can WRITE a word that begins with each of the letters enclosed within the hearts.
For MORE ideas, activities, and crafts for Valentine's Day, download our Valentine's Day Thematic Unit here on the blog!
SUPPLIES for the Valentine's Day Activities Above: