Valentine's Day is fast approaching! It's time to break out the heart-themed learning materials. The Heart-Themed Preschool Activities FREE printable will inspire 10+ Ways to Learn through Play at home, childcare, or in the classroom.
Heart-Themed Preschool Activities: 10+ Ways to Learn through Play
Disclosure: this post and others within the blog contain affiliate, sponsored, or distributor links to products we endorse. We receive income for the blog on purchases you make through links offered. If you'd like to see our updated privacy policy and full disclosures, you can read them here.
To start, download and print the free Heart Pattern printable below (you may wish to print on high quality to ensure vivid colors.) Printing on cardstock paper will make the cards more durable. However, you may choose to laminate them as well. Scotch makes an excellent and affordable laminator available on Amazon. After printing and laminating, cut out the heart cards on the grey lines to separate.
Download the Heart-Themed Printable
Where can we send your download link?
10 + Ways to Learn and Play with Heart-Themed Activities for Preschoolers:
Heart Pattern Making #1 – Encourage young learners to make patterns with the hearts or lay out 2-3 cards to start, and then have them complete the pattern. Start with simple patterns to begin: ABABAB, ABCABC, AABBCC and then progress to more complex patterning as preschoolers gain confidence.
Heart Color Sorting #2 – Place a red heart and a pink heart on opposite sides of the work space. Model sorting out the cards based on the colors of the hearts.
Heart Pattern Sorting #3 – Set out a solid heart and a patterned heart on different sides of the work space. Encourage your preschoolers to sort the hearts based on the pattern(s) or color(s) of the hearts.
Heart Roll & Count #4 – Play a counting game. Roll a dice and count out the corresponding number of hearts. Add a second dice for practice counting bigger numbers or addition.
Heart Memory Game #5 – Separate pairs of each type of heart. Mix them up and place face down on the work space. Flip over two at a time and try and make a match. This can be played individually or as a two-player game by taking turns flipping over two cards.
Heart Puzzle Match #6 – Gather one card of each heart. Cut them half with a straight line (vertical or horizontal) or a zigzag line. Encourage preschoolers to match the sides to put the hearts back together.
Heart Letter Match #7 – Cut heart cards in half. On one side of the heart, write letters in uppercase. On the other side, write lowercase letters. Students can then match the sides of the hearts.
Heart Number Match #8 – Cut the heart cards in half. On one side of the heart, write a number. On the other side make the corresponding number of dots or tally marks. Preschoolers can count the dots or tally marks, and then make a match to the corresponding number.
---
Other Suggestions for Learning through Play with the Heart-Themed Free Printable:
Heart Alphabet Ordering #9 – Write each letter of the alphabet on individual hearts. Encourage your preschoolers to place the hearts in alphabetical order. For younger students, use just a few letters. Add more letters as the children are introduced to more letters throughout the year.
Heart Number Ordering #10 – Write the numbers 1-5 or 1-10 on the hearts. Invite your students to place the hearts in correct number order starting with numeral one. As kids gain confidence, invite them to place the hearts in correct number order starting with a number OTHER than number one.
Heart Name Game #11 – Write each letter of the child's name on a heart. They can then arrange the hearts in the correct order to spell their name.
Heart Hide and Seek #12 – Hide hearts around the room and have children find them. Preschoolers might also be given a heart and asked to find the partner who has the same color or pattern of heart given to them.
---
The uses for these Heart Pattern printable cards are really endless with a little creativity! The Free Hearts-Themed Printable a versatile resource that can be used for a variety of fun preschool learning activities at home, in childcare, or in the classroom. We hope your own preschoolers enjoy learning through play with simple hearts-themed activities.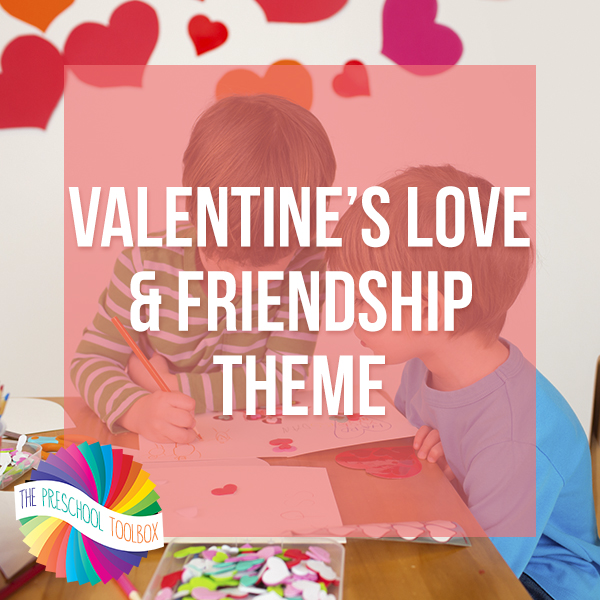 Your preschoolers will also LOVE learning through play with our own Love and Friendship Theme or any of the February activities below!
The Love Boat STEAM Engineering Challenge
Valentine's Day PEEPS Playdough Building Challenge
Free Ways to Play Every Day in February Activity Calendar
Valentine's Day Day Crafts, Fine Motor Trays, and Activities for Preschoolers
About Our Contributor:
Andie Jaye is a former preschool teacher turned stay-at-home mom of 3 kiddos. Her blog, Crayon Freckles , focuses on creative learning and play ideas, as well as parenting topics. Andie strives to be honest in her approach and experiences in parenting to let other moms know that they are not alone in their struggle. In her free time, she writes children's books in hopes of publishing someday.