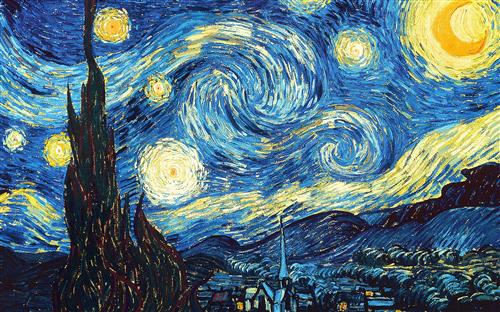 NIGHT SKY THEME for PRESCHOOL:  Starry Night by Vincent Van Gogh
Children and adults of all ages are drawn to the wonder of the night sky.  The moon, planets, and stars present a source of hope, inquiry, and majesty in our world.  This week's #playfulpreschool theme contains activities centered around a NIGHT SKY THEME.   All throughout the school year, the Playful Preschool blogging team will be working behind the scenes to offer activities and suggestions just for your students or children.  We hope your children will enjoy discovering, playing, learning, and creating with us this week!
Purpose:  To introduce the artist, Vincent Van Gogh, to preschoolers and explore his masterpiece, Starry Night.
Vincent Van Gogh was born in 1853 (for preschoolers, a long time ago) and grew up in Holland.  Show the children on a globe or world map (National Geographic has a great online map resource) where Holland is located in relation to where they live.  Vincent studied to be a minister, but found his passion for painting.  Vincent changed the way he painted pictures as he grew.  Eventually he began painting things around him with more colors, thick paint, and bold brush strokes like in Starry Night.  Vincent painted Starry Night in 1889 while at Saint-Rémy-de-Provence in France.  Today, Vincent Van Gogh is considered one of the world's greatest artists.  Starry Night is Vincent's most famous painting.
Invite the children to look at a photograph of Starry Night.  Encourage the children to share what they see:  the crescent moon, swirling clouds, a big black "thing" :), the stars, a church, a quiet town, and houses with lights on.  Ask the children what colors they can find in the painting.  Vincent's use of curved lines for the swirling clouds, the thick colors of paint, and the luminous moon and stars make this painting a fun one to explore with preschoolers.  Invite the children to share what they think the BIG BLACK THING in the painting is.  In the painting it is a cypress bush, but it is a great conversation point with young children.  The answers they give are really quite amazing!  Ask the children if they LIKE the painting.  Remind the children that it is OK not to like an artist's work, but we must be respectful of the artist (person) when we make comments.
Disclosure:  This post and others within this blog contain affiliate links.  Please see the ABOUT section at the top of this page for full disclosures.
The First Starry Night
The First Starry Night by Joan Shaddox Isom is a great book for introducing Vincent Van Gogh to preschoolers!  It is always a little challenging to decide what information is appropriate to share about Vincent with younger children.  This book solves the problem as it focuses ONLY on a loving and caring Vincent; it does not address his mental illness.  The book shares a bond of friendship between a boy and Vincent Van Gogh.  Preschoolers will delight in the beautiful illustrations that make the book come to life.  This book is definitely a must for anyone who wishes to introduce Starry Night and Vincent Van Gogh to young kids.
Starry Night Mixed Media Collage for Preschool
Mixed media collages provide wonderful sensory opportunities for preschoolers to create art.   Our kids created their own version of Starry Night after our discussions about Vincent Van Gogh.
Materials needed:  white paper, paintbrushes, paint cups (we use cupcake liners), smocks or an old T-Shirt to protect clothing, tempera paint (shades of blues and white), and any mixed media items the children can find around the classroom or house to re-create Starry Night.
Mixed Media Assortment:  In order to make the mixed media collages, our kids had to really look at the painting to see what materials we could find in our classroom that would work to create our own version.  We went on a scavenger hunt together and found:  yellow paper, yellow/green/orange crayons, black crumpled paper, mustache stickers, gold paper stars, and swirling pearl stickers – PERFECT mixed media materials! Note:  glue sticks/liquid glue &/or scissors may be necessary for the items your own children locate for their collage.
Invite the children to brush or finger paint the white paper with the shades of blue and white tempera paint.  Allow the paint to thoroughly dry before adding mixed media items.
Have the children collect various mixed media items to create with.
The children can look at a copy of the painting to create their own version using all of the collected mixed media materials.  Our kids LOVED their creations!
This is a great video to show preschoolers more of Van Gogh's paintings:
For other posts in the #playfulpreschool series, visit:
FAMILY and HERITAGE THEME ACTIVITIES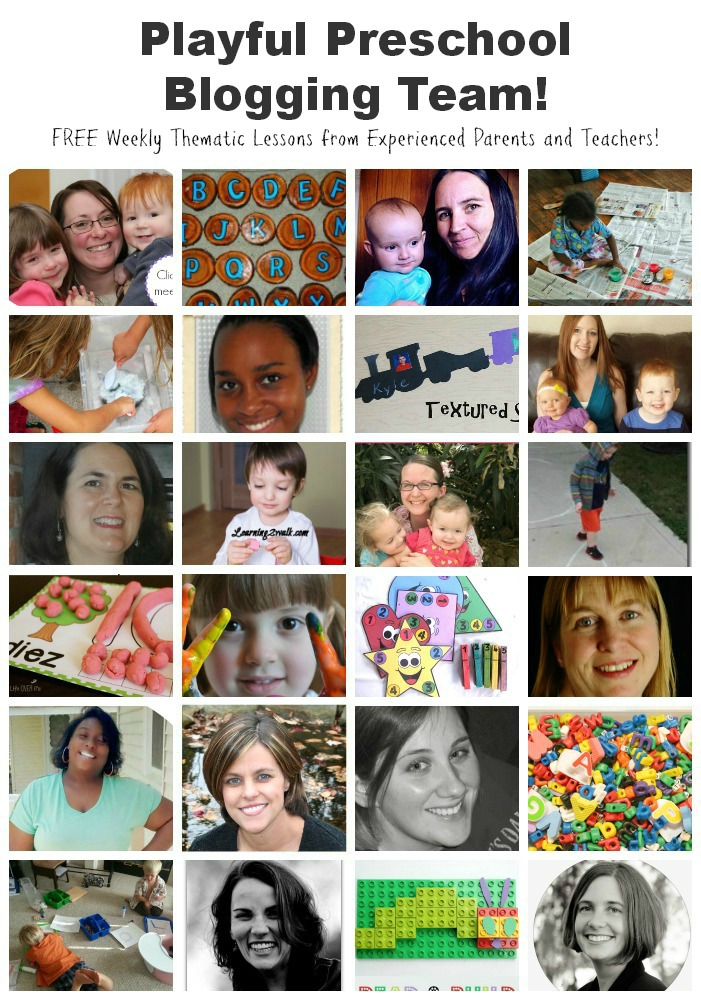 For MORE Playful Preschool Nighttime Activities:
Join us tonight for a live Google + Hangout at 9:00 PM EST. We will discuss Night Activities for Preschoolers. NO worries if the time doesn't work for you, it will be recorded and available to watch afterwards.