Although many of our children are still enjoying the delights of summer, there are some skills that we can incorporate into our children's daily routines that will help as school time approaches!
Strengthening Finger Muscles:
There are many ways to help a child strengthen the small muscles that are necessary to begin writing.  The following are just a FEW that children can do at home over the summer!
*let the children practice transferring water from bowl to bowl using a medicine dropper
*set out a coated paper plate and ask the children to squeeze clothespins and place around the edge of a paper plate – make a NUMBER in the middle of the plate and ask the children to place that number of clothespins around the plate to include math skills
*cut a slit in a plastic lid and have the children practice pushing coins or buttons through the slit.  The WIDER the slit, the easier the skill.   Making an X on the top of the lid will allow objects to pass through, but is still challenging  – pegs, small toys, balls, etc.
*let the children mold and play with play dough (home-made or commercial) – pinch the dough, knead it, cut it,  and practice rolling into balls (large and small).
*use sidewalk chalk, drawing chalk, squeeze bottle spray chalk
Using paper clips:  
Have your child practice using paper clips.  Begin with small index cards and a jumbo coated paper clip (make sure your child does not still put objects in the mouth as paper clips pose a choking hazard).  Demonstrate how to hold the index card between thumb and first finger of the NON-DOMINANT hand.  Using the dominant hand, grasp the paper clip and slide it onto the index card.  As children become more efficient in using paper clips, have them use lighter or heavier paper and smaller or non-coated clips.
Folding Paper: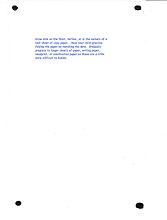 Cut a piece of copy paper in half and draw 4 dots (one in each corner.)  Have your child practice folding (BOTTOM to TOP) and matching the dots.  As your child progresses, use lighter or heavier weight paper, use squares and practice folding corner to corner, or folding LEFT to RIGHT (greeting card style.)
Scissor Skills:
It is best to start with paper that is easily handled (at least standard copy paper weight.) Writing paper is too thin to hold and manage well; cardboard is too thick to easily guide safety scissors through.   For left-handed children, have them cut clockwise.  Right-handed children should cut counter-clockwise (see photo at the top of post).  Demonstrate how to hold the paper/scissors so that the thumbs on both hands are always visible.  Demonstrate how to open/close the scissors.  Practice on the opening/closing skill many times before trying with paper.  Remind the children that it is important to OPEN the scissors each time they want to cut (otherwise they end up just tearing the paper with scissors, instead of CUTTING.)  Draw straight (vertical) lines on a piece of copy paper and have your children practice cutting each of the lines.  As the children gain confidence, draw zig-zag lines or curved lines to practice on.
Here's to helping little fingers grow strong!:)