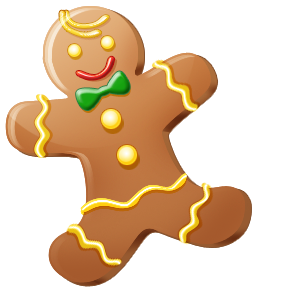 The Christmas/Winter Season is a perfect time to use Gingerbread activities at home or at school!  We use the Gingerbread Unit after Christmas as our kids like the unit and it helps us transition back into a "learning spirit" after Christmas festivities!  Below are a few sample activities from the Gingerbread Thematic Unit.
Gingerbread Man Letter and Picture Matching – Gingerbread Letter Picture Match
Materials needed: Letter Picture Match.pdf (linked above) and scissors.
Cut out each of the gingerbread men and laminate for durability if desired.  After cutting out all of the gingerbread man cards, shuffle the cards and have the children find the matching pairs by matching the gingerbread man with the beginning letter to the corresponding picture. For example, K is for Kite. This activity can also be played as a matching game by turning the cards over and playing like a typical "Memory" game.
For younger children: Limit the number of matching pairs that are set out for the child to find.
Gingerbread Man Cutting Practice – Gingerbread Cutting Lines 
Materials needed: Gingerbread Cutting Lines.pdf (linked above) and scissors.
Print off the Gingerbread Cutting Lines.pdf for each child. Have the students cut on and follow the lines from the gingerbread man, all the way to the gingerbread house. This is great fine motor and scissor practice for young children. 
Large Motor Game:  Run, Gingerbread Man, Run!
This game is played like the traditional "drop the hanky" circle game. One child is chosen to be "it" and carries a paper gingerbread cut out. The rest of the children sit in a circle and chant: "Run, Run, as fast as you can! You can't catch him, he's the gingerbread MAN!" The child who is it walks around the outside of the circle. On the word MAN, the "it" child drops the gingerbread "paper" man behind the back of another child. That child must then chase the "it" child around the circle and try to gently tag him/her before he claims the empty spot and sits down in the circle. Play this game cooperatively (whether or not the tag was successful) so that each child might have a turn to be "it."
For more literacy, math, science, dramatic play, large motor, and art activities, see the  Gingerbread Thematic Unit here on this blog!