While we are in the midst of the remnants of our latest snowstorm, some of our preschool friends around the world are enjoying summer weather! Regardless of the weather outside, young children can enjoy playing and learning with Ocean-Themed activities!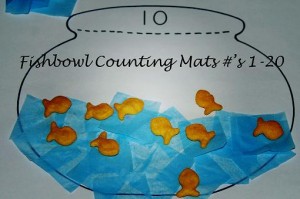 Fishbowl Counting Mats – Fishbowl Math Mats
Materials needed:  Fishbowl Math Mats – linked above (as many as desired for your group of students), blue tissue paper, scissors, glue sticks, and goldfish crackers.
Print off the Fishbowl Math Mats for any numbers the children are working on or have had introduced.  There are templates for numbers 1-20 (plus one blank one to label with any number desired).
Invite the children to glue blue tissue paper squares to the bottom of the fishbowl to resemble water in the bowl.  If desired, the children can color the fishbowl or use blue watercolors to paint the fishbowl.
Give each child a small container of fish-shaped crackers.   The children should count out the number of crackers that correspond to the fishbowl's number and place them on the mat.  For younger children, introduce smaller numbers first (such as 1-5). For older children who are ready for more challenging numbers, 11-20 may be more appropriate. Older children can also use the mats to practice basic addition and subtraction skills.
Note:  If you do not have fish-shaped crackers, any ocean-shaped manipulatives or available counters can be used.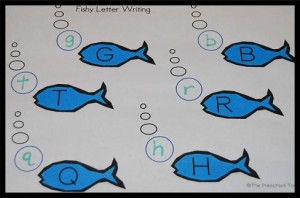 FISHY LETTERS – Fishy Letter Writing
Materials needed: Fishy Letter Writing.pdf – linked above (1 or 2 per child), crayons, alphabet stamps/stamp pads, or markers.
There are various ways to use the Fishy Letters file.  In each case, students can write or copy letters into the blue oxygen bubble next to each fish. Below are different ways students can do this activity:
1. Students can try to write the corresponding lower case letter next to each fish.
2. Students can copy the letter on the fish and write the matching upper case letter
3. Students can use a letter stamp to stamp the corresponding lower case or upper case  letter.
4. Students can trace the appropriate letters.
5. There are two completed worksheets for students to use. The third page of the pdf file is left intentionally blank to use with any letters the children are working on.
Disclosure: This post and others within the blog contain affiliate/distributor and/or sponsored links and content. Please see our disclosures page for more.
The activities above are just two activities offered in our Ocean and Ocean Animals Theme!  There are 7 PowerPoints, a 42 page manual with suggested literacy, math, science, art, large motor, and all accompanying pdf files to print for the activities.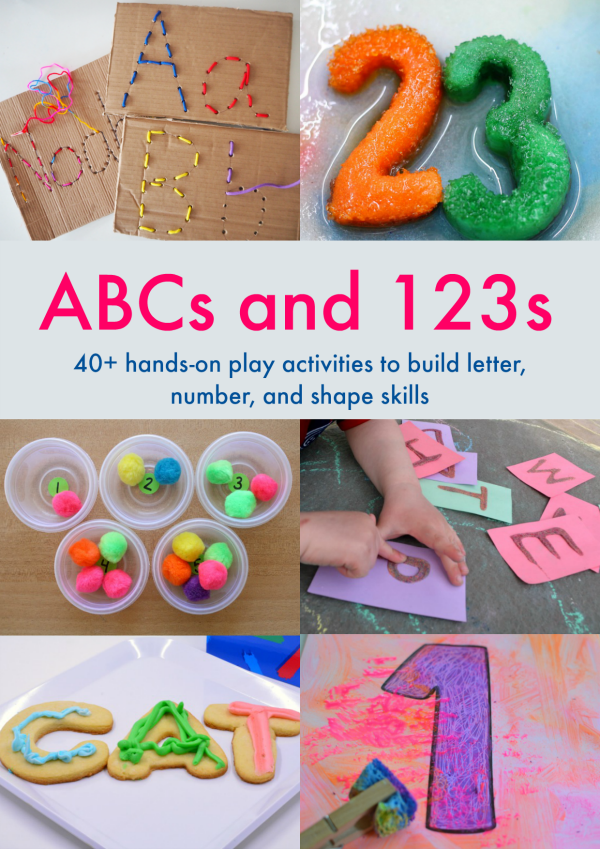 For more ways to teach literacy and math to preschoolers, see our collaborative book filled with playful learning suggestions for home or the classroom:
What you'll get in the ABC's and 123's eBook:
:: 40+ hands-on play ideas that will help your child build their letter and math skills :: multisensory activities for children aged 2 to 8 :: resources for parents and teachers, at home or in the classroom, with ideas for indoor and outdoor learning :: material lists, step-by-step instructions and full color photographs of every activity
:: suggestions for variations and extensions so you can adapt the activities to suit your child
:: a wide range of learning activities, across literacy and math, including:
learning to recognize and write letters and numbers
understanding both upper and lower case letters
drawing shapes and making marks
working on alphabetic order
working on spelling names, sight words, cvc words, and other vocabulary
developing language skills
understanding one-to-one correspondence
learning to count, to add, and subtract
Please note:  You can buy the eBook now, on any device, and then download it when you are ready. Depending on the apps you have installed and your operating system, you might be able to download the eBook on your mobile device. However, if you have any doubts or problems, I recommend you use a computer to download the book and then share it to your mobile devices. You will be sent download instructions when you purchase the eBook.
The ABCs and 123s eBook is published and sold by Cathy James at NurtureStore.co.uk. Please direct any customer service queries regarding purchases of the eBook to [email protected] or refer to the NurtureStore FAQ