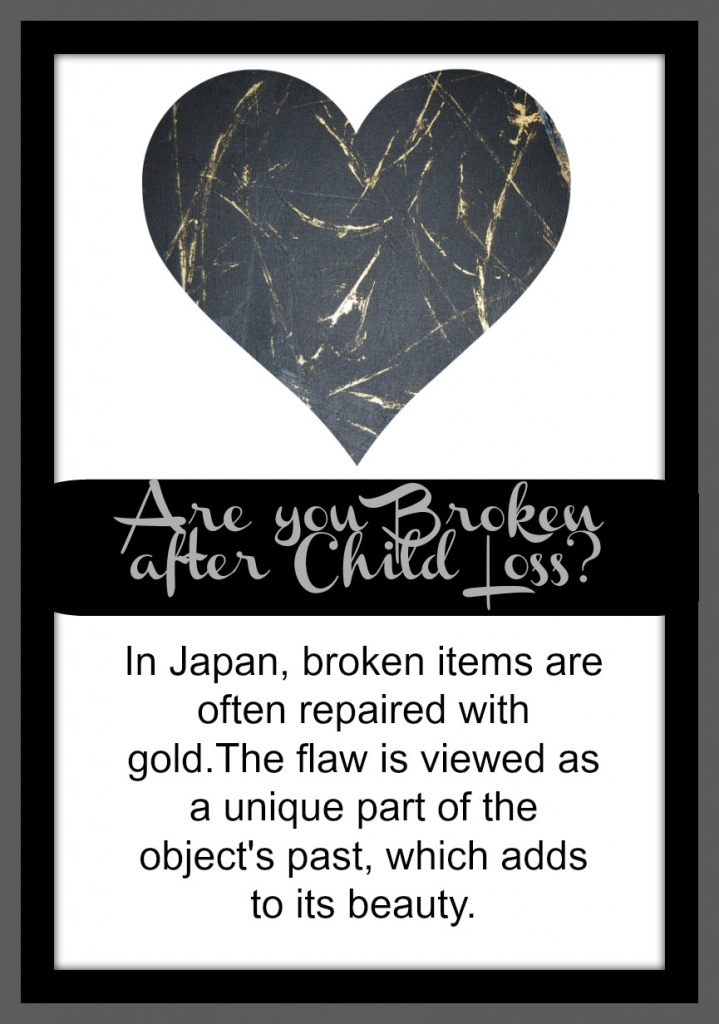 The painting of the black and gold in the photo hangs in my office at home. My daughter, Christina, painted that canvas years ago. I've always thought it was unique, but I didn't really understand why she painted it or what she meant when she did, until recently. If you've read my book, Forever Namaste, you are aware that strange "coincidences" happen in my life after Christina died. I'm nudged or led to discoveries (or re-discoveries) that are significantly important; somehow, I'm supposed to DO something with those. Bereaved parents are broken after great loss, but through our brokenness, God will work to gently fuse our hearts with gold when we are open to healing, truth, and grace.
The Art of Kintsukuroi – in Japan, Kintsukuroi is the art of repairing pottery with gold (or silver) and the understanding that the piece holds more value and beauty for having been broken.
Christina loved Japanese culture – we donated hundreds of books and videos to our local library after she died. We have porcelain masks, fans, artwork, tea sets, her own artwork, and other cherished items here at home. She didn't have the opportunity to visit Japan…or Italy…the many places her heart longed to go. She was always a free spirit, trapped somehow in an earthly body.
I thought this morning about how disposable our society has become. If something is broken or aged, it is forever flawed…somehow useless. I thought about my own brokenness – how fusing of the heart and soul is such a challenging journey. I thought about my own beauty – how time and grief have aged me, yet God is working hard to fuse my heart with HIS gold.
I was angry, raging mad at God. He's since forgiven me for those thoughts, even when they still surface at times. I'm working hard to understand HIS love for me and my family, even when I still have questions about human experiences forever etched in my heart. What I know, without a doubt, is HE LIVES. I wish each of you could have been with me throughout the last 27 months. I wish you could have seen, with your own eyes, all the wondrous things I've seen. I tell of some of them in Forever Namaste, but there are many more. God has given me a glimpse of HIS glory and love through the spirit of my own child who travels before me.
I pray this morning that wherever YOU are, whatever pieces of your own human experiences are broken or in need of repair, that you allow God's gold to gently fuse your own past, present, and future. He seeks each of us, especially in our brokenness. It is only through darkness that our true beauty is revealed.
I wish each of you love, self-forgiveness, forgiveness of others, courage to overcome fear – to travel a different path forward as needed or desired, and grace daily.
I found the Kintsugi stone artistry of Kenetha Stanton quite by "coincidence" as I do in the after-death part of my life. Kenetha shares the art and history of Kintsugi on her website, "My kintsugi artwork carries the theme of creating beauty out of brokenness to new materials and objects beyond the traditional kintsugi method of repairing pottery with lacquer and gold by using alternative materials for the initial pieces and for the repairs."
Kenetha's modern kintsugi pieces are more affordable than work done with actual gold and silver and provide a wider variety of colors, textures, and other options, which is helpful in designing jewelry.
If you are a bereaved parent or know of another parent who walks forward with a broken and grieving heart, please share my own journey from primitive survival to hope detailed in Forever Namaste. Bereaved parents must LEAN IN and offer hope to those who travel beside us.