Family Theme Books for Preschool and Kindergarten
MY FUNNY FAMILY – #PlayfulPreschool Family and Heritage Theme for Preschool
This week's playful preschool theme is:  FAMILY and HERITAGE.  If you'd like to view last week's APPLES ACTIVITIES, you can view them here.  All throughout the school year, the Playful Preschool blogging team will be working behind the scenes to offer activities and suggestions just for your students or children.  Please visit the home page of this blog each Wednesday morning to see new theme-based ideas for playful learning!
Disclosure:  This post and others within this blog contain affiliate links.  For full disclosures, see the ABOUT page at the top of this blog.
My Funny Family is a wonderful book to use for a family preschool theme at home or in the classroom.  The book has "lift the flap" surprises as the children read about different members of this family.  It is a fun and interactive book with rhyming clues that keep the children guessing as they try to determine what family member comes next.  It is definitely worth the $.01 (yes, $.01) to have in your library at school or at home!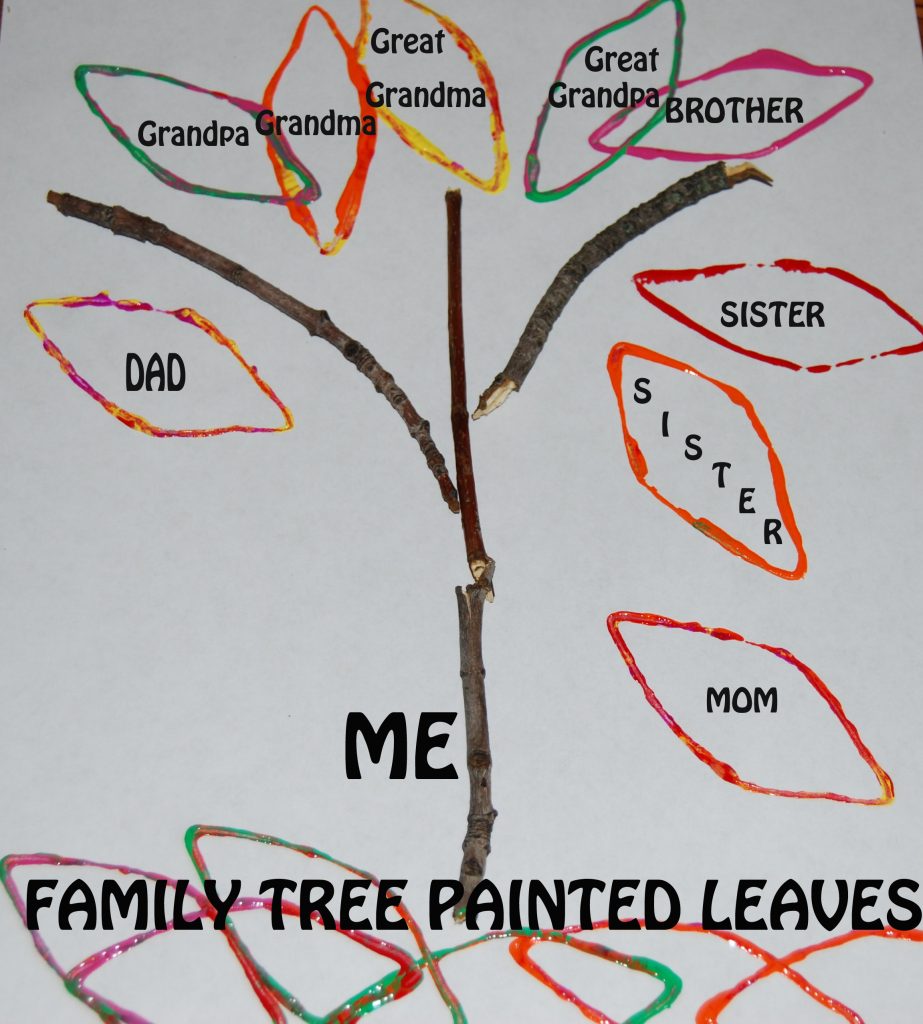 My Family Tree Craft for Preschool
After reading My Funny Family, discuss with the children all the different types of families there are!  Some children live with mom and dad and other children might live with just one parent, an aunt or uncle, or grandparents.  There are many different types of families to celebrate in our world.  Allow time for the children to discuss the members of their own family.  Children LOVE sharing and learning about their own family as well as the families of other children.   It is a great way to connect with preschoolers, create opportunities for language and literacy, and to celebrate differences within families.  After discussions, invite the children to create their own family tree craft to display at home or to make a class book!
Materials needed for the Family Tree Craft:  sticks from outside (or craft sticks), one cardboard tube, poster putty, paint smocks (or old T-Shirts), paint trays (or paper plate), white paper, and any color of tempera paint desired to make your family tree craft.
Prior to painting:  Cut the cardboard tubes (across the tube) to make several ovals.  Pinch the oval shapes at the top and bottom to form a "leaf" (see photo below).  Invite the children to create by placing all supplies out on a table or a large tray.
On the white paper, invite the children to use the sticks to create any kind of tree desired.  For convenience, our kids used small pieces of poster putty to adhere the sticks to the paper instead of glue.  The children can then use the cardboard tube leaves to make paint prints on their paper for each member of their family.  Allow the leaf prints to thoroughly dry before labeling the leaves with each family member.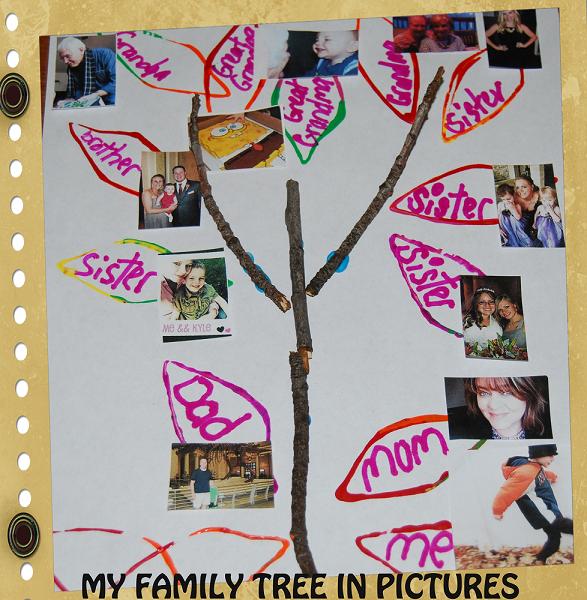 Some children may wish to add photos to their family tree craft, too!  It is fun to use each child's family tree to make a book.  Children love looking through the books to find pictures of themselves and of their family members.  It is a great way to encourage early literacy for young kids!
MY FUNNY FAMILY:  An EASY STICK FAMILY CRAFT for PRESCHOOL
We are FAMILY – We always STICK Together! – We are FAMILY
Discuss with the children how family makes them feel.  Family and home should be a safe-haven for all of its members.   It is a place where we are loved by the members in our family and where we work together as a team for common and individual goals.   Our kids loved creating the stick family craft; it is a nice reminder for young kids that they will have other adults (or older family members) to depend on when the going gets rough!
  Materials needed:   sticks, googly eyes (adhesive backed), ribbon, hole punch, and the printable label (linked above).
Invite the children to gather sticks from outside.  Have the children put two googly eyes on sticks for each member in their immediate family.  The children can tie the sticks up in a bundle with ribbon or yarn.  Invite the children to cut out the label and hole punch the brown dot on the printable above.  The label can then be strung from the ribbon or yarn for a cute craft to accompany your readings and discussions about FAMILY!
MORE Great Books about FAMILY for Preschool:
Who's In My Family by Robie H. Harris
Me and My Family Tree by Joan Sweeney
Who's in a Family by Robert Skutch
All Families Are Special by Norma Simon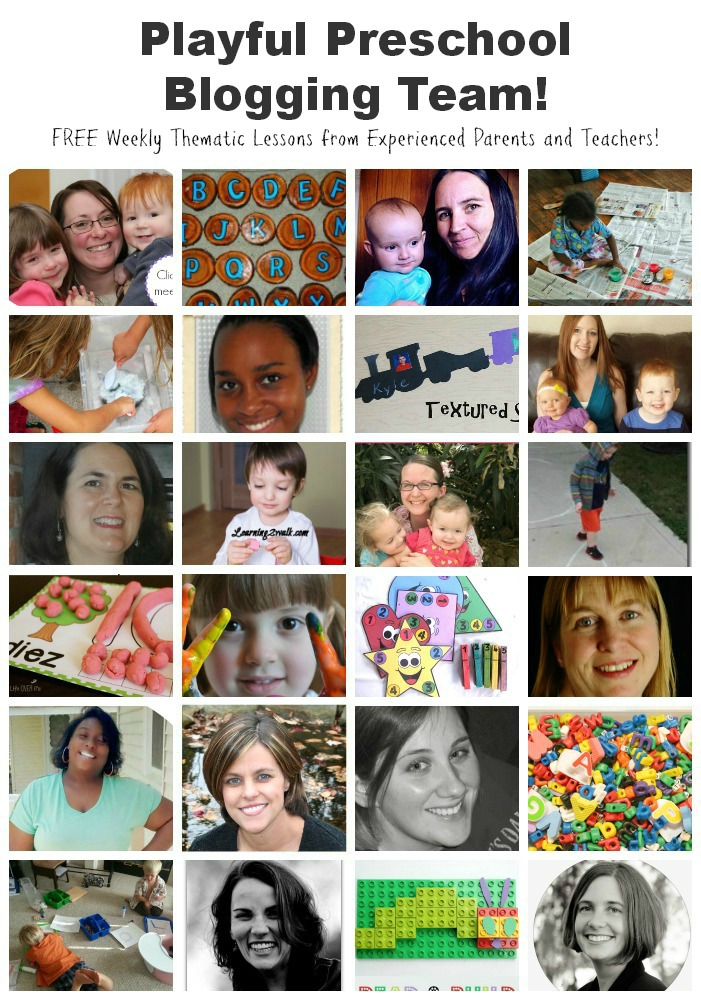 Plan your

Family Theme Preschool Activities

with these ideas from the Playful Preschool Education Team!
Family Theme Learning Activities: Reading – Writing – Cooking – Sensory – Art – Math
Bookmaking for a Preschool Family Theme from Fun A Day
Finding My Family on a Map from Powerful Mothering
Preschool Writing Activity: Letters to Family from Mom Inspired Life
Cooking with Kids: Family Recipe Books from Growing Book By Book
Our Family Tree: Sorting Family Members from Still Playing School
Family Themed Sensory Bin from Little Bins for Little Hands
Tips for Using Skype to Connect with Family from The Educators' Spin On It
Family Portraits from Rainy Day Mum
Family Counting from Tiny Tots Adventures
Jamaican Games for Fine and Gross Motor Skills from Learning 2 Walk
Family Footprints from Capri +3