The following post is sponsored by ReTrak. All opinions are our own. Affiliate links are included for your convenience.
When intentionally integrating technology into any preschool learning environment (whether in the classroom, in childcare, or at home), all uses of technology must flow seamlessly into playful learning. The use of technology isn't an afterthought, a babysitter when play is done, or just something to keep the kids occupied while more important learning is developed. Today, technology can bring wonderful playful learning experiences to preschoolers who may not have the opportunity to explore in their own daily world. Your kids are going to love the Utopia 360° Augmented Reality Animal Zoo flashcards and Virtual Reality headset by ReTrak. Keep reading for zoo animals playful learning suggestions PLUS tips on how to intentionally integrate fun learning experiences with technology into your own preschool environment. Note: if you'd like to see our thoughts on the use of technology in early childhood, please read here.
Zoo Animals Playful Learning PLUS Intentional Technology in Preschool with Utopia 360° Augmented Reality Flashcards and Virtual Reality Headset!
Learning about zoo animals is exciting for preschoolers. Little minds and bodies are naturally curious about animals. For some children, learning about zoo animals may be the first experience they have with animals from other locations around the globe. With the ReTrak Utopia 360° Augmented Reality flashcards and the Virtual Reality headset, zoo animals come to life for preschoolers. We hope your own kids enjoy playfully learning about zoo animals with many of the activities below.
ReTrak's Utopia 360° Augmented Reality flashcards and Virtual Reality headset provide important learning opportunities for preschoolers. When integrating any new technology into preschool environments, introduce the technology to your own kids and students. Preschoolers can play, discover the various zoo animals, and explore how the technology works. The Utopia 360° can be used in many ways to introduce zoo animals from around the world to your own preschoolers. Your kids will delight in seeing the animals "come to life" in real time. The set includes:
Utopia 360° VR Headset and 31 AR cards
Works with the interactive and fully-featured Animal 4D+ app (download for FREE on iTunes or in the Google Play store)
Explore the 3D library and learn about each animal
Feed the animals using the Animal 4D+ Food Series cards
Learn the alphabet, how to read animal names, recognize sounds and spelling
Capture fun augmented reality photos of animals in your real world environment
Use with the Utopia 360° VR for a hands-free 4D experience
Compatible with smartphones, tablets and VR headsets
Augmented Reality and Virtual Reality is new technology for our own students. While the set is intended for use with kids 5+, our preschoolers navigate the app flawlessly after having it for less than a week. We've integrated the technology into various playful learning centers. Watching our preschoolers giggle, play, learn about the various animals, and have FUN doing it is the sure test that a product accomplishes what it's intended to do.
What we LOVE about the Utopia 360° Zoo Animals AR and VR set:
The animal cards introduce a wide variety of zoo animals (A-Z)
Navigating the Free 4D+ zoo animals app isn't difficult after a few tries. Preschoolers pick up technology very quickly. We can intentionally integrate use of the app within various playful learning centers and throughout our zoo animals unit studies.
Our kids are getting exposure to animals they haven't seen before with an awesome 3D and 4D experience.
Our kids are gaining technology skills through playful opportunities.
The set is reasonably priced and made from quality materials (it is durable even with multiple preschoolers using it).
Documenting learning can be accomplished within the app as it has photo capture abilities.
Using the technology is FUN learning and play. Our preschoolers love to use it and are learning as they play.
Zoo Animals Themed Sensory Play Dough Tracks and Small World Play
Materials needed:
Set up an invitation for preschoolers to play and explore various zoo animals with play dough. Make a simple tray with play dough, various animals, and zoo or jungle themed accessories (trees, fences, rocks, sticks, or leaves). Kids can make animal prints and tracks in the play dough, build various small world play settings, and have fun building skills through sensory play. Observe which zoo animals your preschoolers choose for pretend play. Find some of the matching zoo animal cards within the Utopia 360° set and watch those animals come to life in 3D and 4D experiences.
Zoo Animals Themed Prints Matching Activities for Preschoolers!
Materials needed:
Print the free set of zoo animal prints and matching word cards, laminate for durability, and invite the kids to cut the word cards and the animal print card apart. The printable set can be used for playful learning with the following matching games:
Introduce each animal by showing the children the animal the specific print belongs to. Lay the cards out and see if the kids can match the zoo animal to the print on the cards. As the kids gain confidence, see if they can match the word cards to the print by focusing on the BEGINNING letter in each word.
Kids can also play a memory style game with the animal prints and/or word cards. Print several copies of the file (linked above), cut out the word cards and prints. Lay the cards face down on a table. Play begins with one player turning over two cards. If the cards match (print to print or word to word), the player keeps those cards. If playing with more than one child, play would then go to the next child who turns over two cards. If the cards do not match, then the cards are turned face-down until a match is located. The game is over when all matching pairs have been located.
Locate the Zebra and Giraffe flashcards within the Utopia 360° card set. Use the app to photo capture the animals in 3D – can your preschoolers match the animal skins to the play animals and animal skins in the printable file?
Monkey Roll, Count, and Cover Math Activity for Preschoolers!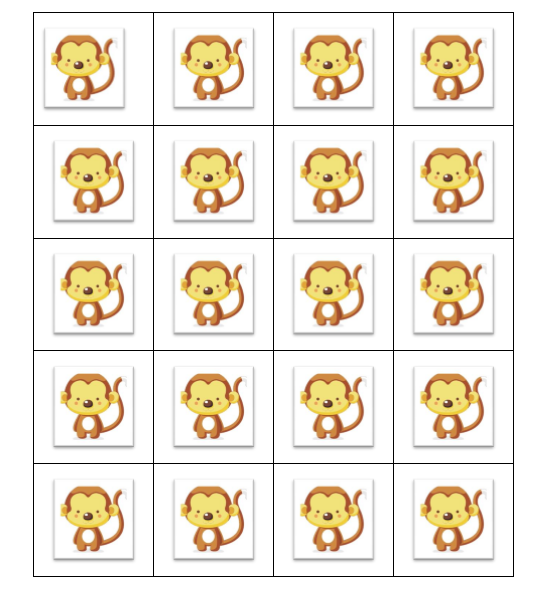 Materials needed:
Print the monkey math mat and laminate for durability. Invite your preschoolers to roll one die, count the number of dots, and cover the corresponding number of monkeys with banana counters, bingo chips, or small animal crackers on their math mat. Continue rolling until all the monkeys are covered on the mat. For larger numbers, print additional math mats to play with. Invite kids to locate the monkey and bananas flashcards in the Utopia 360° zoo animals set. Using the 4D+ Zoo animals app, can your preschoolers "feed the monkey" bananas? How many bananas are in the bunch? Incorporating counting into daily learning experiences allows preschoolers to integrate intuitive number sense.
What Do Zoo Animals Eat? Fruit and Vegetable Food Patterns in Preschool!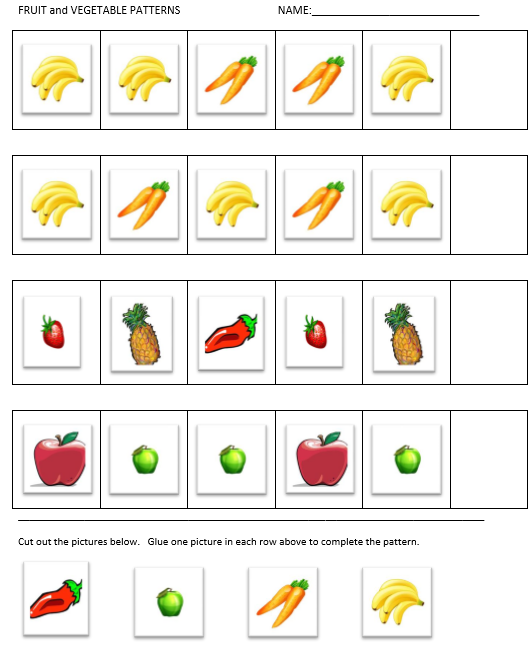 Materials needed:
Print the fruit and vegetable patterning mat. Preschoolers can cut the four pictures out at the bottom of the page. Invite preschoolers to glue the picture in each row that completes the basic pattern. To expand on patterning skills, use the farmers market produce play set and fruit fun counters to invite preschoolers to play and design patterns on their own. Read the Kids Book of Questions – What Do Animals Eat? book to your preschoolers. It's interesting to see what various animals eat for basic survival. Use your Utopia 360° Zoo Animals AR and VR set to "feed" various fruits and vegetables to the zoo animals. Preschoolers can capture photos of the zoo animals eating right within the app.
More book recommendations for your Zoo Animals themed lessons:


Utopia 360° also has a dinosaur set and space set for kids. Our kids will explore dinosaurs later this year. It will be fun to watch dinosaurs "come to life" with the use of augmented and virtual reality as we play to learn with our dinosaur unit. Follow Utopia 360° on Twitter or FB for updates and information throughout the year.