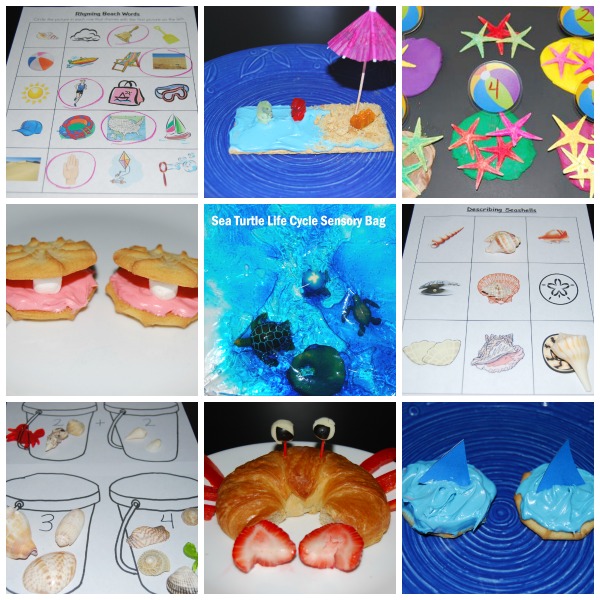 OCEAN and BEACH-THEMED ACTIVITIES for PRESCHOOL!
This week the #PlayfulECE Team offers the best in summer learning through PLAY for preschoolers!  Even if you don't have a chance to visit the ocean or a beach this summer, the activities below will bring the delights of playful learning, creating, and exploration to kids at home or in the preschool classroom!
BEACH-THEMED PLAYDOUGH COUNTING – Preschoolers will love playing with the playdough and beach-themed objects!  It is a great way to PLAY with one-to-one correspondence and work on basic counting skills over the summer.
SEA TURTLE LIFE CYCLE:  Explore the Life Cycle of a Sea Turtle with a unique SENSORY BAG that will encourage kids to learn through tactile and sensory PLAY!
Sand Pail Counting – Print the sand pail template for playful practice with basic counting and one-to-one correspondence!
GRAHAM CRACKER BEACH – Create a BEACH-THEMED treat that will delight kids of all ages!
Describing Seashells – Print the game boards for each of the children and laminate for durability.  This game will enhance verbal skills when describing seashells to play!
CROISSANT CRAB SNACK – Build a croissant crab for a snack that is FUN to MAKE and EAT!
Beach Rhyming Words – practice words that RHYME with a FREE PRINTABLE for playful learning this summer!
OYSTER and PEARL COOKIE SNACK – an EASY to create snack to accompany discussions and PLAY with an OCEAN or BEACH THEME!

Shark Cookies – Print the shark fins to heavy paper and laminate!  It's a fun snack for an Ocean or Beach Theme at home or in the classroom!
The Ocean Theme from The Preschool Toolbox is an instant download that contains an extensive book list, literacy, math, science, art and craft ideas, gross motor, sensory, and more food craft ideas for Preschool and Kindergarten.  ALL you need to explore the OCEAN this summer at home or in the classroom!
For even MORE great ideas for Summer Play and Learning, please visit the activities below from the #PlayfulECE team of bloggers!
10 Sensory Fun Ideas for Preschoolers Learning 2 Walk
10 Book Inspired Cooking Activities for Preschoolers by Growing Book by Book
10 Preschool Summer Activities All About Coconuts by Fun-A-Day!
10 Ladybug Learning Activities by Tiny Tots Adventures
10 Summer Alphabet Activities for Preschoolers by Mom Inspired Life
10 Ways to Play and Learn with Sand by Still Playing School
10 Ways to Learn About Colors with Your Preschooler from Life Over C's
10 Fun Math Activities to Keep Your Preschooler Learning all Summer by The Educators' Spin On It