If you are new to this blog, then WELCOME!  Each week we collaborate with the #TeachECE Early Childhood Team to offer playful activity suggestions that span all learning areas.  This week, you'll find awesome handmade gift ideas that kids can make!  The Snowman and Santa Ornament Crafts are fun to create and make adorable gifts from kids to family and friends!
SNOWMAN and SANTA HANDMADE ORNAMENT CRAFTS for KIDS to MAKE!
'Tis the season for crafting!  The snowman and Santa ornaments are FUN for kids to make and easy enough for even the smallest of crafters to create for a memorable gift to family and friends.
Prior to creating the ornaments, take a few moments to share a special Santa and/or snowman book with your kids.  A few of our favorites:
SANTA ORNAMENT HANDMADE CRAFT FOR KIDS!
Materials needed:
Invite kids to fill the clear ornament with the red glitter balls.  If using plastic ornaments that open, just pour in the glitter balls and close shut.  If using top loading ornaments, place one glitter ball on top of the opening and gently push the glitter balls through the opening with the eraser end of a pencil.
To make Santa's belt:  The kids should cut one strip of black construction paper that will fit around the ornament.  Glue dots will hold the paper strip on the ornament.  Any left-over paper can simply be cut away.  Cut a square from the gold metallic paper to resemble the belt buckle and glue it on top of the black paper belt.  If desired, older kids can cut away a "square inside the square" for a more authentic looking buckle.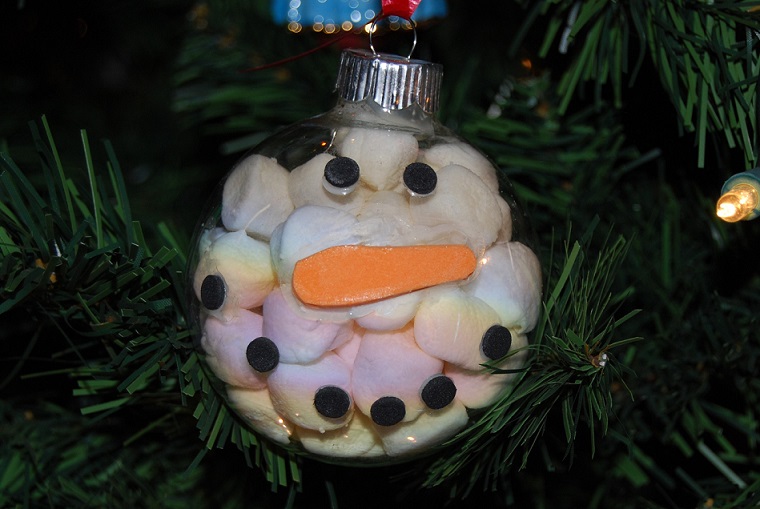 SNOWMAN ORNAMENT CRAFTS FOR KIDS!
Materials needed:
Have the kids place the miniature marshmallows inside the ornament and close.  The eyes and mouth for the snowman can be made by hole punching the black craft foam.  Attach the black circles to the ornament with liquid glue or glue dots.  The nose can be cut from the orange craft foam.  Younger children will need assistance cutting the nose for the craft.  Attach the nose with glue dots or liquid glue to the ornament.  Add a festive ribbon for a hanger and the kids will have a wonderful handmade ornament for gifting this holiday season!
Your kids might also enjoy:
Learning and Play with The Mitten by Jan Brett
For more awesome ideas for creating handmade gifts with kids, please visit the wonderful suggestions from the Early Childhood Education Team below!