Knowledge of shapes is one of the earliest educational processes that young kids are exposed to.  Preschoolers use visual information about shapes to discriminate between objects and to learn about the world around them.  This week the Early Childhood Education Team is offering playful learning suggestions for helping young kids learn about SHAPES.  The playdough shapes building challenge below will not only help preschoolers observe and compare various shapes, but it will challenge them to integrate basic shape knowledge into a hands-on activity that encourages critical thinking skills.
Playdough SHAPES Building Challenge for Preschoolers!
Playdough Shape Building Challenge Objectives: To encourage kids to use critical thinking skills and individual creativity to construct basic shapes with playdough.  Skills presented in the building challenge:
Estimation
Same/Different
Fine Motor
Visual Measurement
Number concepts for creation of the shapes
Relationships between the shapes
Planning and design that exhibits early attempts at engineering
Sensory (Tactile and Visual)
Connections with familiar and new shape knowledge
Creative Expression
Inquiry and Problem solving
BUILDING INQUIRY: What basic shapes can the children create using ONLY playdough?
The shapes building challenge can be modified for kids of various ages through the addition of more complex shapes, polygons, cylinders/cones/spheres, or creating towers from basic shapes. Rolling, squeezing, squishing, and molding playdough into various shapes is a FUN way to offer opportunities for the development of fine motor skills and knowledge of shapes through inquiry and solution-based learning!
Introduction for students:   Review basic shapes the children have had introduced or are learning:  circles, triangles, squares, rectangles are good shapes to begin with.  Challenge the children to use playdough only to create any shape(s) they know.  The children will ask questions about how to make the shapes.  Try to guide the children with open-ended questions that will allow them to think about the shape they wish to create and make a plan for the design with only the playdough.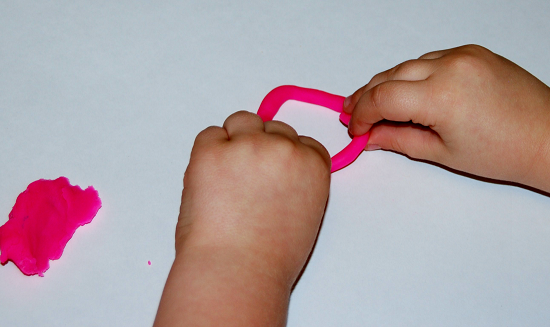 It is exciting to observe kids engaged in planning, building, making visual "measurements", and formulating ideas about various shape designs!
In the photo above,  kids chose to create an 8-sided octagon and a 3-sided triangle from rolled pieces of playdough.
CREATIVE BUILDING STRATEGY EXAMPLES
To create circles, the kids tried various designs. Some of the children rolled a long playdough worm and then attached the ends.  Other children chose to roll small balls and flatten with their hands.  One group "pieced together" a large circle comprised of other small playdough balls.
It's amazing the observe young children thinking and creating.  This challenge was FUN for the kids, but they gained some important problem solving skills that they will carry with them as they grow and learn about shapes!
For even MORE ways to play with SHAPES in Early Childhood, please visit the activity suggestions from the #TeachECE team below:
Shiny Showy Shapes Alliteration Fun by Growing Book by Book
Roll and Cover The Shapes Alphabet Activity by Mom Inspired Life
Shapes Preschool Theme Sand Writing Tray by Learning 2 Walk
Mixing Shapes with Our Bodies – Group Activity by Capri + 3
Shape Sensory Squish Bag by Still Playing School
Shape I Spy for Preschoolers: Free Printable by Life Over C's
Exploring Shapes with Yarn by Tiny Tots Adventures
Playdough Shapes Building Challenge for Preschoolers by The Preschool Toolbox Blog
DIY Shapes Puzzle by Munchkins and Moms
Preschool Shape Hunt Activities by Fun-A-Day