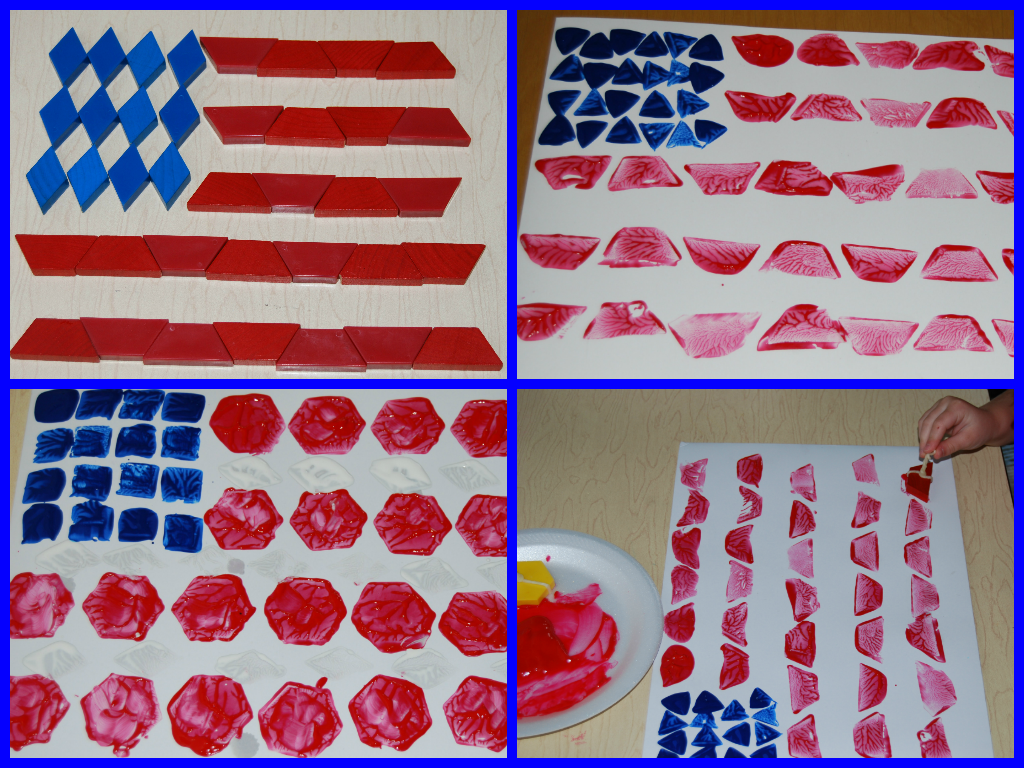 Our preschoolers have been using pattern blocks for most everything lately:  to make buildings/towers, as "food" in our kitchen, to make domino runs, and to create intricate designs on their own.   As with most of our classroom materials, our kids often find the most creative suggestions when left to explore on their own.  Our newest creations:  PATTERN BLOCK PRINTED FLAGS!
Materials needed:  Pattern blocks, paint trays or paper plates, tempera paint (blue/red/white or other colors if outside of the U.S.), and paint smocks or an old T-shirt.
Invite the children to make flags by dipping the pattern blocks into the paint trays and printing on a plain sheet of paper.  We set out an American Flag so the children could copy the design when printing.  For the younger children, we penciled in the flag's square and the stripes as visual guide for the pattern block prints.   Some of our children are not fond of messy play (it's true)! 🙂  We improvised by using a Wikki Stix attached to only the sides of a pattern block.  The twisted end formed a  pattern block "painting tool" the kids could hold on to (see photos).
The flags not only make great crafts for ANY Patriotic holiday, but the printing enhances fine motor skills and awareness of various shapes!
After printing, allow time for the children to explore flag designs with the pattern blocks on a table or the floor!  Kids never cease to amaze me!
 For MORE Patriotic Ideas for Kids, see our Patriotic board on Pinterest!