CANDY CANE LEARNING ACTIVITIES for PRESCHOOL and KINDERGARTEN
There are few treats that symbolize Christmas in the way that candy canes do!  If you have not read "The Legend of the Candy Cane" you can print it here.  We've gathered a collection of candy cane suggestions for activities across all learning areas in Preschool and Kindergarten.  We hope you enjoy creating, exploring, and playing with us this Christmas!
Candy Cane Fine Motor Craft – encourage fine motor skills by creating this adorable candy cane craft from School Time Snippets!
Candy Cane Peppermint Scented Playdough – this is a great playdough for sensory play at Christmas from Love, Play, and Learn!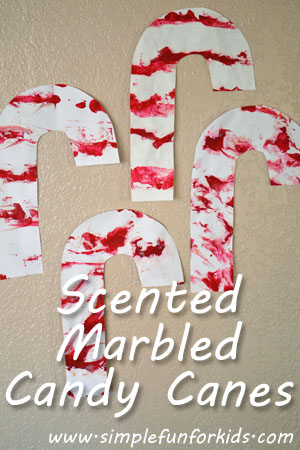 Peppermint Scented Marbled Candy Cane Craft – a wonderful sensory experience for young kids (they make great displays at home or in the classroom, too) – from Simple Fun for Kids!
Candy Cane Circle Time Game (plus additional activities for playful learning) – "Who Stole the Candy from the Candy Cane Jar" by Teach Preschool!
Candy Cane Math – encourage kids to count by 5's with our own sensory candy cane counting game!
Candy Cane Patterning – a great way to reinforce basic patterning concepts from School Time Snippets!
Dissolving Candy Canes Science Activity – a wonderful experiment to try with young kids!  Note:  if your kids love science, see all the preschool science experiments from Science Sparks!
Candy Cane Christmas Ornaments – I love the use of letter beads to encourage literacy in this craft from Artsy Momma!
Candy Cane Beginning Words and Letters – invite your children to play with candy cane beginning sounds and sight words – free to print here on the blog.
Legend of the Candy Cane Cookies that Kids Can Help Make – a melt-in-your-mouth cookie that is perfect for Christmas!
Disclosure:  this post and others within this blog contain affiliate links.  For full disclosures, see the ABOUT page.
CANDY CANE BOOKS for PRESCHOOL and KINDERGARTEN
The Legend of the Candy Cane by Lori Walburg
Candy Cane Christmas by Helen and David Haidle
Santa And How The Candy Cane Came To Be
J is for Jesus by Crystal Bowman
The Candy Cane Story (a Christian Version) by Amy Floyd Gillette 
For more Christmas Activities for Preschool and Kindergarten, see the Christmas Thematic Unit here on the blog!